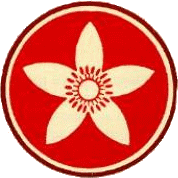 C.G. Jung Club of Orange County
Bowers Museum Tour:
Pre-Columbian collection
Presented by
Armand J. Labbé
Saturday, December 7th, 2002, 10:30 am
Armand Labbé will give a guided tour of the collections facility at the Bowers Museum with a focus on the Pre-Columbian collection, providing us with an opportunity to view some of the shamanistic artifacts noted in the Friday evening lecture. Attendance for this special event is limited to 15 persons and early registration is strongly recommended.
Members will have priority.
Armand Labbé, Director of Research and Collections and Chief Curator at the Bowers Museum in Santa Ana, has authored numerous books and scholarly articles pertaining to the art and prehistory of ancient civilizations, particularly those of the New World and ancient Thailand. He has curated major exhibits of prehistoric art and has taught art and prehistory at UC Irvine and Cal State Fullerton. Areas of special interest are world shamanism, prehistoric Southwest geometric symbolism and the religious iconography of Mesoamerica.