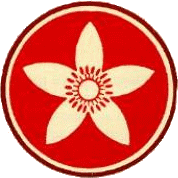 C.G. Jung Club of Orange County
Uniting the One and the Many:
Quiltmaking as Alchemy and Psychological Process
​
Presented by
Janet Muff, MSN, RN

Sunday, 4 PM - 6 PM, November 6th, 2011
NOTE: Daylight Savings Time ends on this day. Turn clocks back one hour.
​
Quilting has been around for as long as people have needed warm garments. But quilts as we know them are a uniquely American art form. They tell us stories about the human condition. In their names, Sunshine & Shadow, Drunkard's Path, and Rocky Road, we hear echoes of the lives and concerns of their makers, and see traces of the archetypes that inform those lives. In their complexity and multiplicity, we recognize an underlying process that, like alchemy, begins with chaos and fragmentation, subjects the original material to various operations of separation and unification, and results – finally! - in a new wholeness that is much greater than the sum of its parts.
​
In this presentation we will explore the meaning of quilts in people's lives, and specifically the capacity of quilts to heal and to serve memory. We will discuss the parallels between quiltmaking, alchemy, and analytical psychology, and will illustrate how quiltmaking – the act of putting the pieces together – has helped (primarily) women to reassemble the shattered pieces of their lives. A case will be made for a psychological principle that when it comes to resolving traumatic experiences the needle can be mightier than either the sword or the pen.
​
Janet Muff, MSN, RN, is a Jungian Analyst in private practice in South Pasadena. She teaches and supervises candidates in the Jung Institute Training Program.