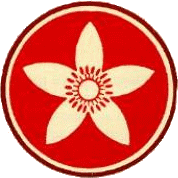 C.G. Jung Club of Orange County
Shamanism and Shamanic Iconography
in Pre-Columbian Art
Presented by
Armand J. Labbé
Friday, December 6th, 2002, 8:00 pm

The numinous experience of the individuation process is, on the archaic level, the prerogative of shamans and medicine men.
~ C.G. Jung
In tribal cultures the shaman is the priest, healer, magician, diviner, and the mediator between the living and the ancestors. In present day, we can look to the ways of the shaman to gain insight into the symbolic and healing nature of the archetypal psyche. Indeed, Jung characterized the phenomenology of shamanism as an archaic precursor to the alchemist's individuation symbolism. We can see these archetypal patterns expressed in the iconography used in the Pre-Columbian neotropic art that reference shamanic powers and activities.
Join us for an exploration of shamanic symbolism. Armand Labbé will present a slide-illustrated survey of the relevant iconography in Pre-Columbian art including examples of shamanic empowerment, shamans and guardians of fertility, as well as shamans in soul flight and soul transformation.