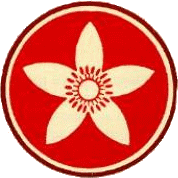 C.G. Jung Club of Orange County
Alchemical Psychology:
Transforming the Lead of the Unconscious into the Gold of an "Illumined Soul"
Presented by
Thom F. Cavalli, Ph.D.
Friday, May 31st, 2002
8:00 pm

In 1997, Thom Cavalli presented a lecture on transforming alchemical recipes into modern-day use. This popular and Informative program eventually became the basis for his newly published book, Alchemical Psychology, Old Recipes for Living in a New World. This year's event will explore new developments since his last visit with us, guiding us through the psychological processes of transforming this age-old wisdom into contemporary practice.
The Alchemical recipe seeks to change the lead of the unconscious into the gold of an "illumined soul." Alchemists purposefully imbedded this recipe—actually a secret process of transformation—into their complex, Symbolic formulas. This lecture will provide some keys to unlock these mysteries so we may put their wisdom to practical use.
Thom F. Cavalli, Ph.D., is a clinical psychologist practicing in Tustin. He has lectured on many clinical and Jungian topics, appeared on national television, exhibited art and most recently published his first book with Putnam.