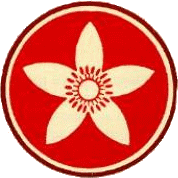 C.G. Jung Club of Orange County
The Jewel in the Wound
Presented by
Rose-Emily Rothenberg, M.A.
Friday, April 26th, 2002
8:00 pm
(this program was not recorded)

Our wounds, both physical and psychological, can initiate the process of individuation and shape our individual myth. The dreams, visions and creative work arising from them can bring greater meaning to our lives. The messages from our wounds can connect us to the deeper layers of the psyche, creating a healing relationship with them.
The lecture will be accompanied by slides as well as selected passages from Ms. Rothenberg's new book, The Jewel in the Wound: How the Body Expresses the Needs of the Psyche and Offers a Path to Transformation, which describes her encounter with spontaneously-arising scars. She discovered their symbolic and spiritual meaning through analysis, art work, scholarly research and a trip to Africa to study the art of scarification. In this process, the scars became the sacred jewels that illuminated the path of self-understanding.
Rose-Emily Rothenberg, M.A., is a Jungian analyst in private practice in Pacific Palisades, and on faculty at the C.G. Jung Institute of Los Angeles. Her special interest is the relationship between disease and the psyche. Ms. Rothenberg has lectured nationally and internationally.